Advanced Learning Programs / GATE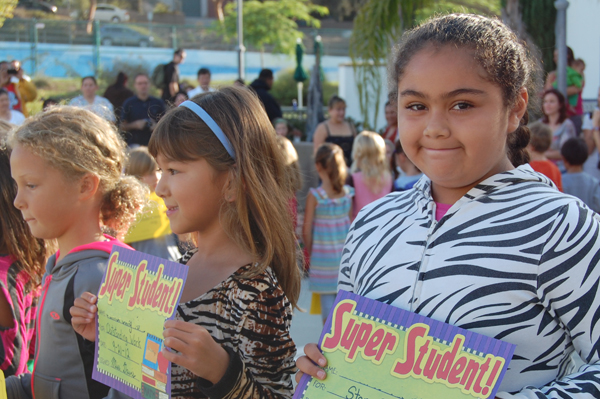 The Santa Barbara Unified School District's philosophy is that all students will reach their full potential through programs designed to meet their needs. The Advanced Learning Program is designed to meet the needs of those students who demonstrate exceptional intellectual capability, and have been identified as gifted and/or greatly exceed grade level expectations. Through differentiated instruction, advanced learning students have equal access to the core curriculum and opportunities to not only meet, but to exceed grade level standards.
Secondary Advanced Learning Program
To stay informed about upcoming parent and student events, please join the Secondary GATE email distribution list by contacting alpptc@sbunified.org.
More information will be available soon.
Elementary Gifted and Talented (GATE) Program
Elementary Gifted and Talented Education (GATE) programs include GATE cluster groups, GATE pullout and enrichment lessons, and district GATE magnet classrooms at Washington Elementary School.
QUESTIONS?
TESTING OR INTERPRETING GATE TEST RESULTS
Contact:
Harriet Whaley, Assessment and Accountability Specialist (805) 963-4338, x6277, hwhaley@sbunified.org
---
TRANSFER APPLICATIONS OR THE GATE MAGNET PROGRAM LOTTERY*
Visit: pages.sbunified.org/transfers
Contact: Esther Caesar or Natali Cardenas, Office of Student Services (805) 963-4338, x6278 or x6276
*Students secure seats in the magnet school for the next school year by entering a lottery that is held by the school district's Office of Student Services each winter.
---
SBUSD'S GATE MAGNET SCHOOL AT WASHINGTON ELEMENTARY
Contact: Denise Granger, Principal, Washington Elementary School (805) 965-6653
---
CONTACT THE SCHOOL PRINCIPAL TO LEARN ABOUT GATE APPROACHES AT YOUR CHILD'S SCHOOL OR TO ARRANGE A SCHOOL VISIT
Kelly Fresch, Principal, Adams Elementary School
(805) 563-2515
Gabriel Sandoval, Principal, Cleveland Elementary School
(805) 963-8873
Casie Killgore, Principal, Franklin Elementary School
(805) 963-4283
Veronica Binkley, Principal, Harding University Partnership School
(805) 965-8994
Elena Garcia-Yoshitomi, Principal, McKinley Elementary School
(805) 966-9926
Brian Naughton, Principal, Monroe Elementary School
(805) 966-7023
Valerie Galindo, Principal, Roosevelt Elementary School
(805) 563-2062
Anna Scharfeld, Principal, Santa Barbara Community Academy
(805) 687-2081